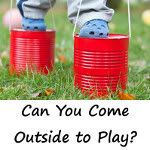 Even though we are outside A LOT I really love these outdoor challenges I have been running across. People really spend too much time inside, plugged in and it's just not healthy. The one I'm planning to take part in this month can be found here:
Can You Come Outside To Play?
I actually heard about it from one of the other blogs I follow and love.
Living and Learning Now
I love her list of 50 Outdoor Activities Your Children Will Love!!!!